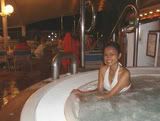 Blogging and personal webpage today takes the place of those bulky scrapbooks. But if you ask me, I'd take up scrapbooking over blogging, if only I have the resources (aside from time) I'm such a nostalgic schmut!
Funny that two weeks ago, we were all cramming for last minute purchases to bring to Singapore. I was so excited for the trip - only to be surprised by my failing camera. In short, I wasnt able to take good pictures and just relied on my friends' cams YESSS! CAN YOU IMAGINE?? ME OF ALL PEOPLE! WHY?? WHY?? HUWAIIIII????
I typed part of this blog on a big boat Starship Aquarius bound for Malaysia and Thailand. our incentive this year was a trip to Singapore, and cruise our way to the other two countries. I
n Singapore we stayed at the very prestigious Meritus Mandarin hotel in Orchard Road - right across the shopping malls (Lucky Plaza, Takeshemaya and Cathay Mall!!) yaiks!. I was able to get a taste of their Singaporean dimsum - CHANG KEE!! and also had the experience of eating mint chocolate ice cream sandwich the Singaporean way - though i wasnt able to finish it due to my diet.
We went to the Singapore ferry after a day. We were aboard Starship Aquarius and had a gala night or the Captain's ball that evening, me wearing a lush green dress with my hair and face made up. Too bad for that blasted camera.
Next morning we went to Penang, Malaysia. usual temple tours with snakes… I remember we werent able to buy my ever so cheap mementos - ref magnets of countries I go to.
Malaysia is predominantly a Muslim country. What fascinated me was its city - Penang. We rode on a bus to go tour a Malaysian temple and British colonial houses. The city was peaceful and serene, their people not as smiley as the Filipinos though, but its a country I'd like to visit again just to relax if I win the lotto. Funny, the beaches there are beautiful as well, however the local women go to beach in black burqa because of their Islam customs- just like in Jeddah.
Our tour guide in Malaysia was very funny, he is a Chinese gay guy, loves to connect the historic sites with a song, and likes to tease our boss(Sir Mike and Ms. Ces). This is also where I first ate a Malaysian version of Corneto - Orange ice cream covered in dark chocolate. Yum indeed..
Again, no camera. I'd just rely on my friends' pics.
Phuket was a good place. It's similar to Palawan, Patong beach is like Subic bay. We went to Fisherman's place where there is authentic Thai food, I really really looooove their soup in lemongrass and chili - yummmmmm. But overall, I think their main course is a little bland. Tasted like Filipino - but bland. The Thais also have a custom to finish the water - not necesarilly the food. If you dont drink the glass down to the last drop, they'd be offended. so drink up!
We then rode a little boat going to James Bond island. We passed by what looked like a 45 minute boatride through a lot of mangroves. James Bond island looked like Palawan, with bigger mountains. I remembered it rained really hard that day. we looked more like refugees being rescued from a disaster area than tourists. because of that heavy rain, we were mostly wet on our way back to the bus. Most of my comrades got sick. Good thing I always eat vegetables and fruits in all the cruise's 3 day course meals. Overall it was a beautiful day.
I bought a tubular worth of lemon honey tamarinds. Boy the Thais do really love their tamarinds as much as we love our mango.
I now realize why Thailand is such a foreign magnet - not just because of the so called cheap Asian sex for the dirty old men, but also because they are part of a ship tour. since Philippines is isolated from the three countries (plus indonesia), Philippines has to hard sell and do some heavy PR work when it comes to tourism. Not that tourism is bad in our country, we need more heave-ho I think. Maybe the Dept. of Tourism must work together with Superferry or a Norwegian cruiseliner to have a cruise in Bali / Cebu / Boracay / Palawan. But because of the Muslim extremists, we must also be compelled to tighten our security.
Speaking of Cruises... The cruise - is what I would call, 'living the life'. We watched a theatrical show, then ate buffet at all the good restaurants aboard the ship, got our pictures taken, joined in the games and after that rainy spectacle in Thailand, had ourselves a gooooood bubbly jacuzzi - across the Oceana Deck with the guests eating dinner. how weird was that? But still.. I wouldnt even have experienced all these if I'm not presently working where I am right now. ahhh tis the lifee… I wouldnt go back there in my own money, unless I have some millions to spare..
The last 3 days in Singapore were a little touring and shop till you drop. I 'dropped-no shop' hahhaha.. (darn this blasted tooth I had to repair.) We went to the Singapore flyer and Sentosa Park to watch a spectacular laser light show. It's nothing you've ever seen believe me. Someday, I hope to go back to Singapore in time for their May - July sale. I love their country as it's a melting pot of India, Arab and Chinese cuisine with British influence. Clean, hardly any crime, people are friendlier than in Hongkong AND there are a lot of Filipinos working there too, in the hotels and cruises doing us special favors.
While my colleagues were buying branded stuff like Burberry, Charles and Keith, Coach bags, I was stuck with the usual going home presents - Giordano shirts, chocolates and ref magnets. Even with my bag's zipper which just gave out, I had to control the urge to spend because i needed the dollars for something big I'm planning for.
Its good to tour places without me having to pay for everything. This is part of the reason why I'm staying at my current job. Aside from the wacky bonding I have with my team, there's the trip and a (little) monetary incentive that they 'reward' their ever so faithful hardworking jack of all trades sales team. I should have done this blogging a long time ago - four years back when we all first went to Hongkong.
Looking forward to another trip next year - JAPAN perhaps?